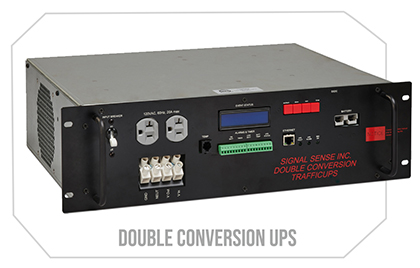 Double Conversion Battery Backup
The Signal Sense SSDC Series UPS is a family of True On-Line Double Conversion power supplies designed to handle today's most demanding traffic signal and ITS applications. Available in three sizes, a 700 W, 1100 W, and 1400 W. These three rugged UPS's provide seamless, pure sine wave power at all times, with the added benefit of a continuous on-line design that provides full power conditioning, filtering and spike and surge protection.
The SSDC series UPS offers as standard features: full time Ethernet capability; a comprehensive LCD digital display of all operating functions, as well as advanced alarm communication functions that allow remote or local monitoring.

SSDC 1000
700 Watt
Power module
1.0 kVa
SSDC 1500
1100 Watt
Power module
1.5 kVa

SSDC 1000
1400 Watt
Power module
2.0 kVa


Features:
Double Conversion True On-Line Digital Design

24/7 Power Conditioning and Filtering

Standard SNMP Adapter for Ethernet

Integral Webpage for Local/Remote Monitoring and Configuration
Temp Compensated Battery Charger

Equipped with Programmable LCD front panel

display/event counter

Comprehensive Alarm System

Adjustable Flash Timer Capability

Optional Automatic Transfer Switch for Generator

operation

All Battery Connections are "Anderson" type

System capable of utilizing any "off the shelf" deep

cycle battery

Up to 8 Hours or longer Run-Time

Tested by Eurofins E&E North America to

UL 1778/CSA C22.2 No.107.3 Uninterruptible Power Systems CE

Tested by Eurofins E&E North America to NEMA TS2 temperature range -34c to +74c

Exceeds ANSI/IEEE C.62.41/C.62.45 Cat A & B

for Lightning/Surge Protection